Astley & Tyldesley took on local rivals Stockport in a Northern League match at Gin Pit on Sunday. A & T got off to a good start and were in control of the first half, leading by 5 points at the interval. The highlight was a cleverly worked 7-3 by the Remi Burchardt / Dariusz Pilas pairing over Terry Norman in heat 5. However, A & T suffered a disastrous second half, starting when race leader Mick Knowles was surprised by Mat Lush, who went past along with Ali Lam, for a Stockport 7-3 in heat 9. A & T hit back with successive heat wins to lead by 7 points with just four races to go. However, the Dylan Radcliffe / Ben Higham pair took two 7-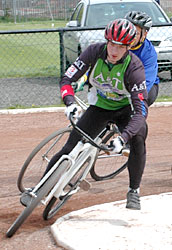 heat wins to level the scores going in to the last race. Burchardt led from Norman, but Ben Dickenson picked up his second exclusion of the match after clashing with Jack Lush. Later on Norman passed Burchardt, to secure a 75-72 win for Stockport. For A & T, Pilas raced unbeaten, whilst skipper Burchardt (pictured) lost just once. Stockport's win was largely down to excellent use of Higham at reserve and he teamed up with Radcliffe five times, taking maximum points on three occasions. That pair really sealed the match for the visitors, along with Norman's two race wins and solid scoring.
Northern League match result
Astley & Tyldesley 72 Stockport 75
A & T: Remi Burchardt 19, Dariusz Pilas 18 (2), Luke Jamson 10 (1), Ben Dickenson 10, Mick Knowles 8 (1), Andy Knowles 4, Lars Favrholdt 3.
Stockport: Dylan Radcliffe 16 (2), Terry Norman 16, Ben Higham 15 (3), Jack Lush 11, Ali Lam 8, Mat Lush 7 (1), Joe Pickford 2.
Referee - Gary Nuttall.