The club had received planning permission in the Autumn of 1990 to build a race track at Gin Pit. Work commenced on 1st December 1990 and was completed by the end of March 1991.
Alan Farrell, Mike Hack and Steve Mills built the race track, with a PPS pink granite dust surface, in just four months! The club changed its name to Astley & Tyldesley, at the request of the Miners' Welfare Club, who helped with the purchase of some of the construction materials. Club sponsorship was obtained from Cycle World, of Atherton, and the club staged the official opening match on Saturday 13th April 1991, on a sunny, but cold day. A&T beat a Manchester League Select team 92-88, to get off to a good start, in front of a large crowd.
The club quickly recruited plenty of new junior riders, a feature which has been throughout the club's history. Highlights of the season were a classic International Fours matchat Gin Pit on Friday 26th July. A&T and Tameside tied on 42 points, ahead of Dutch sides Hilversum 'A' on 39 and Hilversum 'B' on 37. A month later, on Saturday 24th August, we staged a British Individual Semi-Final. New British Champion Jimmy Varnish gave a brilliant exhibition of racing, setting up a new track record of 46.13 seconds for the 74.5 metre length racing circuit.
In the Manchester League, our teams finished bottom of both divisions, but we were up and running as A&T. Our first win in Division 1 came on Tuesday 21st May, when we won on default away to Denton. Our first win on the track was on Thursday 1st August, with a home win, 70-69, over Stockport. Mike Hack was the team's top scorer, with 312 points from 22 matches, whilst Steve Mills topped the averages, with a 3.10 race average.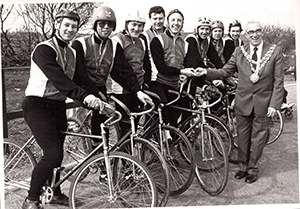 Photo right is of the A&T team at the Official opening match, with the then Mayor of Wigan, Councillor Ron McAllister.
L-r: Tony Bickerdike, Chris Cooke, Roger Farrell, Pat Beacock, Steve Mills, Mike Hack, Dave Holtom, Dave Wood.
Below are a few more photos from the 1991 season.