The club made considerable track improvements, with Phase 2 of its Development Programme, as Steve Mills secured £10,000 funding from the Foundation for Sport & The Arts. By the end of the season, the club had a fine red Broxburn shale surface, a steel storage cabin, a brick built covered announcerís area, a brick built covered pits area, concrete panelled pits area, hardcore laid to surrounds, six club bikes, two water supplies, electricity supply and floodlighting. By the end of the year, the track record was lowered to 42.10 seconds, held by Andrew Jackson, of Wednesfield.

On the track, the 1st team struggled, finishing last out of 6 teams in the British League North Division 1 and bottom out of 5 teams in the Manchester League Division 1. George Hughes was top points scorer with 363 points, whilst Steve Mills topped the race averages on 3.22. The club made good links with Moorside High School, in Swinton, with several top
quality juniors recruited from there. The juniors had another great season, winning the British League North Junior League (out of 7 teams), retaining the Manchester League Division 2 title (out of 5 teams), moving up to 2nd place in the British League North Combination Division (out of 6 teams). The team convincingly beat Heckmondwike to win the British League North Junior Cup Final, at Bury, for the first time.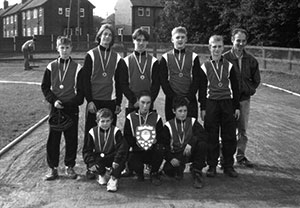 Photo right is of the Junior Cup winning team.

Back row, l-r: Vinny Henshall, Paul Burt, Gavin Creaney, Phil Moreton, Peter Fenlon, George Hughes.
Front row, l-r: Lee Smethills, Michelle Hughes, Danny Hughes.