The Gin Pit venue was selected by the British Cycle Speedway Council to be the Northís Regional Centre, a status held ever since. This was excellent recognition for the progress of the club and itís venue, in just six years, despite very little local authority assistance towards the facility development.

The clubís top rider Phil Moreton transferred to Leicester, after starting his studies at Loughborough University. With just one veteran rider left, to support the clubís junior riders, the decision was taken to pull out of the British League North and focus on age category competitions, including the running of an A&T League, and a few senior challenge
matches.

A&T had a tremendous season in the age category competitions. A&T were one of the six founder members of the new British (Youth &) Junior League, and finished 3rd out of 13 teams in the inaugural season. Lee Smethills and Damien Hack won the u-16 and u-13 Grands Prix series, and both riders won the British Indoor Individual titles at those age categories.
Lee also won the U-16 outdoor British Individual Final. Despite fielding no senior riders, A&T finished 2nd in the Northern Fours League, out of 7 teams. A&T won the Northern Junior League (out of 7 teams), the Northern Junior Cup Final and the Manchester League Division 2 (out of 5 teams). The clubís finest hour came with victory in the British u-16
Team Final, at Exeter, in September. A&T tied on points with Horspath, before Lee Smethills sped away to win the run-off, for the clubís first, and so far only, victory in a British Team or Club Final. A&T finished in 3rd place in the British u-19 Team Final, at Gin Pit, in October. Mike Hack was top points scorer on 144, with Lee Smethills topping the averages on 2.86.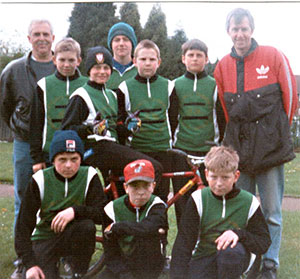 Photo Right is of the A&T team which came 3rd in the first ever British Junior League match at Wednesfield.

Back row, l-r: Ken Smethills, Ben Wells, Martin Phillips, Danny Ward, Damien Hack, Dale Edwards, Mike Hack.

Kneeling, l-r: Lee Smethills, Daniel Mills, Carl Howarth.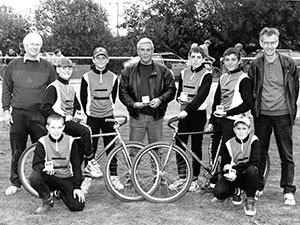 Photo Left is of the A&T team which won the British u-16 Team Final at Exeter.

Back row, l-r: Bill Phillips, Martin Phillips, Dale Edwards, Ken Smethills, James Mann, Lee Smethills, Mike Hack.

Kneeling, l-r: Damien Hack, Daniel Helme.


British Finals photos courtesy of Roger Nicholson.