The Club purchased a second Cabin and fitted it out during the winter, to serve as a dedicated Catering Cabin, with the original one designated solely as a Storage Cabin. However, the club's number of riders fell for the second successive year and this was reflected in on track results.

A&T entered the newly formed British League North / Midlands League Division 2. We finished 2nd out of 4 teams, losing by a single point at Sandwell in the final match of the season. To say that the match was highly charged and controversial would be the under statement of the century, as Sandwell took the win they needed to pip us for the title.
In the British League North Fours League we finished bottom, out of 6 teams. At junior level, we finished 3rd out of 6 teams in the combined North & Midlands Regional Qualifying League of the British Junior League. This format had been introduced for the first time, as the BJL had quickly become a victim of its own success, with the top two teams qualifying from each of the then three regions. A&T dropped to 5th place, out of 6 teams, in the British League North Junior League and down to 4th out of 5 teams in the Manchester League Division 2. Damien Hack was top scorer with 109 points, whilst Martin Phillips topped the race averages with 2.92.

The Bolton News and their sister paper, the Leigh Journal, sponsored the British u-16 Team Championships at Gin Pit on 18th September. Their coverage included this excellent shot of A&T captain Damien Hack, leading Bury's Scott Jarman and Tameside's Mark Wylie, on his way to a maximum score.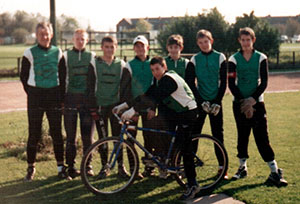 Photo right is of the A&T team which beat Sandwell, 77-69, at Gin Pit on 17th October.

L-r: Mike Hack, Russ Holland, Lee Smethills, Martin Phillips, John Jackson, Damien Hack, David Farley. On bike: Lee Harper.