The club was effectively re-launched in 2001. Winter improvements saw the track re-surfaced with a new supply of shale, along with the planting of shrubs on a new earth bank, funded by a Wigan Council Community Chest grant, to provide a green barrier between our site and the football pitches.

Steve Holland took over as Track Manager, and plenty of small improvements were carried out. For the first time since 1994, we had a full club sponsor, as CTA Direct, of Tyldesley, began their support of the club, which has continued ever since. The Minersí Welfare Club received a £160,000 grant from the Coalfields Regeneration Trust, to extend the clubhouse, for the building of a new lounge, showers and changing rooms.

Martin Phillips retired from racing, whilst exams and work commitments reduced the availability of Damien Hack and Russ Holland. This left veterans Mike Hack and Steve Holland to carry the team, which was supplemented with several first year u-13 riders. Although the number of regular riders increased to eight, the lack of recruitment in the preceding years caught up, in terms of on track results. The team finished bottom out of 4 teams in the Midlands/ North League Division 2. We finished 8th out of 9 teams in the Northern Fours League and 4th out of 7 teams in the Northern Junior League. We didnít compete in the British Junior League. Mike Hack was top scorer, with 159 points, whilst Damien Hack topped the race averages, on 3.27.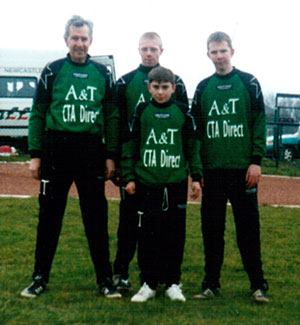 Photo right is of the team which finished 3rd out of 4 teams in the opening Northern Fours League match at Gin Pit on 25th March.

L-r: Mike Hack, Russ Holland, Damien Hack. Front: Chris Barnes