Bill Phillips returned to the Committee, taking over the Chairman's position. After the previous year's funding debacle, Sport England encouraged the Club to compile 4 years' Development Plans, Business Plans and Action Plans, in order to bid for a £127,000 grant from their Community Investment Fund. Wigan Council finally agreed to a site lease,
but the club's bid application was rejected by Sport England. Six new club bikes were secured by Aimee Hack, from Wigan Council's Community Chest. Club membership levels were at a then high of 55 (40 riders, 15 officials and volunteers). We had a good influx of teenage riders, for the first time in several years.

On track, the club recovered and stabilised after the previous year's Premier League upset. There was improvement in the Northern League, finishing 4th out of 7 teams. We won the Manchester League Division1 for the fourth time in six years.

Adam Phillips won the British u-10 Grand Prix series. A&T finished 3rd out of 5 teams in the North section of the British Youth & Junior League, 3rd out of 5 teams in the Northern Combination Division and bottom out of 3 teams in the Manchester League Division 2.

A&T finished 8th out of 20 entrants in the British Club Championship. Remi Burchardt was the club's top points scorer, with 236, and he topped the race averages, on 3.58.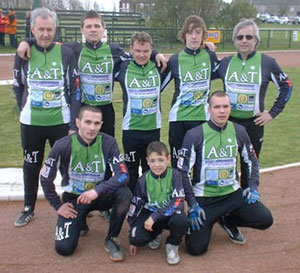 1st team photo, back row, l-r: Mike Hack, Tomasz Wlodarczyk, Andy Knowles, Joe Allen, Roy Heslop.

Kneeling, l-r: Darek Kurkowski, Adam Phillips, Przemek Binkowski.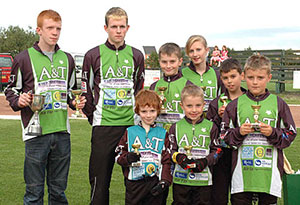 Junior team photo, back row, l-r: Ben Dickenson, Luke Jamson, Adam Watson, Laura Watson, Stefan Whitelegg.

Front row, l-r: Tyler Koch, Max Evans, Colin Farn.