The season got off to a bad start with the sad death of long serving club volunteer, Ron Hack. The Club enjoyed an excellent four page article in Cycling Weekly magazine, when the Halfords Bikehut professional road racing team, led by former World Madison Champion, Rob Hayles, enjoyed a training session at Gin Pit. The Club fielded a Women's team for the first time, finishing 4th out of six teams in the Women's British Club Championship at Gin Pit. Club membership levels increased to 60 (48 riders, 12 officials and volunteers).

In the Northern League, we again finished 4th out of 7 teams, but dropped to 3rd out of 4 teams in the Manchester League Division1. As well as again fielding several Polish riders, Danish rider Lars Favrholdt raced for A&T, as did Four Cross and BMX professional rider, Martin Ogden.

Adam Phillips moved up a category and won the British u-12 Grand Prix series. A&T finished 2nd out of 5 teams in the North section of the British Youth & Junior League, 2nd out of 8 teams in the Northern Junior League and 3rd out of 5 teams in the Northern Combination Division. We shocked Stockport by winning on their track in the final round, to secure a narrow series title win in the Manchester League Division 2. Joel Partington won four national titles in other cycling disciplines.

A&T dropped to 15th out of 22 entrants in the British Club Championship. Ben Dickenson was the club's top points scorer, with 202, whilst Dariusz Pilas topped the race averages, on 3.88.


1st team photo, back row, l-r: Rafal Dulinski, Darek Kurkowski, Mike Hack, Luke Jamson, Ben Dickenson. Kneeling, l-r: Mick Knowles, Dariusz Pilas, Remi Burchardt, Przemek Binkowski.
Women's team photo, l-r: Laura Watson, Michelle Hughes, Mike Hack, Helen Brown, Beren Airstone.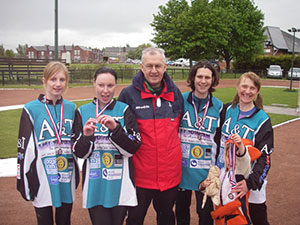 Halford's Bikehut team photo, l-r: Mike Hack, Ian Bibby, Mark McNally, Ben Dickenson, Rob Hayles, Ian Wilkinson.