British Youth & Junior League National Round 4

Adam Watson competed in round 4 at Leicester on Saturday, he scored 10 points and got into the U-8 'C' final in which he came first. This was a great result for him as unknowing to anybody he was actually racing with a broken arm!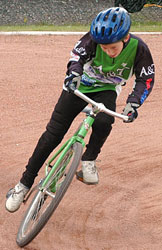 He told his parents that he hurt his arm last week and did not say anything to either of them about how bad it was because he wanted to race for the club last Sunday at Gin Pit and again for the final round at Leicester.

He is now in plaster and has to attend the fracture clinic on Monday. Unfortunately Adam will not be at training for the rest of the season.

Many congratulations go to Adam on being A & T's lone representative at the BY&JL National Rounds and showing such guts and commitment in racing whilst injured.