Astley & Tyldesley Cycle Speedway Club have been reinforcing links with British Cycling in recent weeks.
BC's North West Divisional Chairman and Board member, Tony Barry, was present as an official guest when he made his first visit to a cycle speedway match when he took in the opening round of the Wosskow Brown sponsored British Youth & Junior League series at Gin Pit.
Hywel Satherley and Marshall Thomas, of the Coaching & Education Department, were present at the Premier League match with Wednesfield last Sunday, and again at training last Tuesday, to film and photograph activities which will be included in the Level 3 Cycle Speedway discipline specific coaching pack and DVD.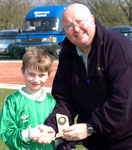 Last Tuesday, A & T Club Coach Mike Hack coached a group of 22 youngsters, from all cycling disciplines, who enjoyed a cycle speedway day at Gin Pit, as part of BC's Easter Holiday Activities Programme.
Tony Barry is pictured presenting the award to the U-8 GP winner, Adam Watson, of Astley & Tyldesley. Photo courtesy of Len Priestley (A & T Official Photographer).