All of Astley & Tyldesley's established u-10 and u-13 riders were invited for the squad to race in the U-13 British Club Championships at Hull on Saturday. Five riders accepted, but unfortunately, Max Evans had to pull out through illness on the morning of the match. The remaining four riders were rewarded with a great day's racing.

A & T were drawn in the tougher of the two semi-finals. It quickly turned into a three horse race for the two final places. At the halfway stage, A & T were joint leaders with Poole on 23 points, ahead of East Newport 22, Hull 18 and last year's winners Ipswich 14. After three rounds of races, it was still very close, with A & T on 35 and East Newport and Poole both on 34. A & T finished in magnificent style, winning their last three races to win the match with a 49 points score. East Newport and Poole tied on 44 points, with the Welsh side winning a run-off to qualify for the final as runners-up. Captain Adam Phillips was in a class of his own, racing to an untroubled 16 points maximum. Reece Pollitt confirmed his improvement, winning two races for a 13 points total. The real revelation though was Freddie Hewitt, who won his last two races in his debut match to also score 13, as he rode fast throughout the match. Ross Green worked hard for his 7 points and they were vital in the team's win.

U-13 British Club Championship Semi-Final 1 result

East Newport 44 Astley & Tyldesley 49 Poole 44 Hull 37 Ipswich 25.

East Newport: Ethan Greenslade 15, Adam Bennett 9, Ethan Lewis 8, Tudor Coombes 7, Sean Bennett 5.

A & T: Adam Phillips 16, Reece Pollitt 13, Freddie Hewitt 13, Ross Green 7.

Poole: Jordan Ritzberger 14, Callum Alban 14, George Newman 9, Fraser Hoare 5, Jay Briggs 2.
Hull: Sam Schofield 13, Andy Cooper 10, Rob Davies 7, Nathan Everett 6, Joe Sewell 1.
Ipswich: Jack Chaplin 10, Alex Harvey 6, Ben Harvey 5, Brandon Gilbert-Rolfe 3, Tom Martin 1.
Referee - Darren Kent (Heckmondwike).
U-13 British Club Championship Semi-Final 2 result
Bretford 44 Sheffield 27 Horspath 46 Leicester 43.
Referee - Andy Moody (Hull).
A & T lined up for the first BCC final that they have qualified for since 2000, in buoyant mood. Both Horspath and Bretford opted to use a strong rider as a tactical reserve. Horspath took an early 4 points lead, after taking 14 points from their four grid 1s, but the scores had closed up by the half way stage, heat 8. East Newport led with 22 points, Horspath 21, A & T 19, Bretford 16. Heat 7 had proved unfortunate, as Freddie Hewitt fell heavily after a clash on the back straight and was excluded as the cause of the stoppage. The scores were even closer after heat 12, with just 5 points separating the four teams - East Newport 32, Horspath 30, A & T 29, Bretford 27. A & T had four grid 1s to finish off with, so still had every chance to win the final. Ross Green finished last in heat 13, but Reece Pollitt's win in heat 14 put A & T very much back in contention. Heat 15 was a decisive race as both Bretford and Horspath put in their big gun reserve replacements, to take full advantage of Freddie Hewitt's inexperience. Horspath won to put them on 41 points and in a strong position. Adam Phillips won the last heat to complete another untroubled maximum score. For three and a half laps, the East Newport rider was at the back, which would have put them level with A & T on 39 points, but he came through on the back straight to take third place and move his team onto 40 and second place overall. Final score was: Horspath 44 East Newport 40 Astley & Tyldesley 39 Bretford 35.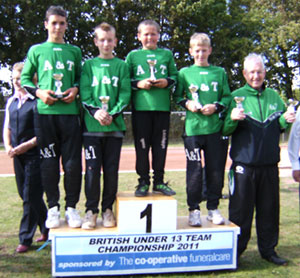 A & T gave it their all and the riders can rightly be proud of a terrific performance. Adam Phillips was an inspirational captain, not just leading from the front, but encouraging his team mates throughout, with a strong team spirit very much in evidence. Reece Pollitt rode terrifically well, dropping just 2 points, with Freddie Hewitt always in the mix and Ross Green's points keeping the team in contention. However, the absence of a fifth rider prevented A & T from using a tactical reserve, a feature which Horspath exploited fully and was a major factor in their success. Neither Bretford nor Horspath used their tactical reserve against Adam Phillips, but in races where they considered they could gain more points. Thanks go to Will Evans for providing the use of his motorhome, which proved to be a great base for the team throughout the day, as well as being all able to travel together.
U-13 British Club Championship Final result
Astley & Tyldesley 39 Bretford 35 East Newport 40 Horspath 44.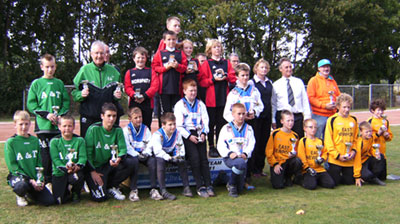 A & T: Adam Phillips 16, Reece Pollitt 14, Freddie Hewitt 5, Ross Green 4.
Bretford: Lee Kemp 14, Kyle Roberts 8, Niall Cleaver 6, Dan Price 4, Matt Hambridge 3.
East Newport: Ethan Greenslade 14, Tudor Coombes 10, Adam Bennett 9, Ethan Lewis 7, Sean Bennett dnr.
Horspath: Jordan Richardson 15, George Horsley 13, Jake Neighbour 12, Alice Neighbour 2, Alfie Wakefield 2.
Referee - Darren Kent (Heckmondwike).