Astley & Tyldesley have been rocked by the sad news that top rider Damian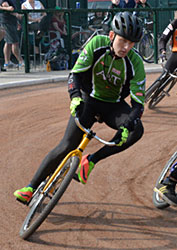 Zareba has been forced to quit racing, due to a serious back injury.
The 34 year old Pole from Bydgoszcz was the 2004 European Champion and very much in form this year, despite racing when less than fully fit.
He aggravated his long standing injury in the Battle of Britain match in April and has bowed to medical advice to quit racing to avoid worsening the injury.
Everyone at A&T wishes Damian all the best - his dynamic and spectacular racing style will be sorely missed.
Picture - Damian in action at Gin Pit on Sunday 9th April 2017.