Many congratulations to Emily Burgess (pictured right), who was runner up in the Young Sports Achiever category at the Inspired Wigan Believe Sports Awar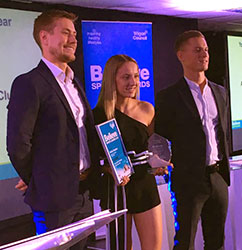 ds 2019, at the DW Stadium on Friday evening.
Unfortunately, none of our other nominations were placed - John White in the Young Sports Achiever category, Kelly Skitterall in the Volunteer category, A&T Club in the Club category, A&T 1st Team in the Team category.
The organisers received a record number of nominations - 141. Ten club members enjoyed the evening - as ever it's a good promotional evening for the Club, with over 400 people present.