Mike Hack's services to cycling recognised with the country's top award
A&Ts cycling stalwart Mike Hack has won the sport's national governing body's top award for officials.
A cycle speedway official for the last 46 years, he received the prestigious Dave Saunders Memorial trophy at the British Cycling Awards in Solihull. The award is presented to the volunteer official in any of the six cycling disciplines covered by British Cycling –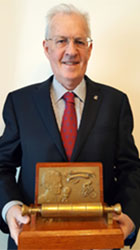 BMX, cycle speedway, cyclo-cross, mountain bike, road and track – who is deemed to have made a special contribution to the sport. It is selected annually by British Cycling's board of directors and is their most prestigious award.
The Astley and Tyldesley Cycle Speedway Club stalwart is only the second official from that particular format of cycling to receive the award, with most of the previous winners coming from British Cycling's flagship disciplines of road and track.
Mr Hack currently holds the positions of secretary, press officer, development officer and coach at his club. He also holds posts at local league, regional league, national and international levels. He is regional chairman and team manager; national commission member, referees' manager and referee; and international federation general secretary, and referee.
His award is one of only two special ones presented annually by British Cycling – the other being for the top event official – and recognises outstanding services to cycling. It is named after Dave Saunders, a journalist at the Daily Telegraph, who covered the Tour de France for many years prior to his death in a car crash in London in 1978. He was regarded as the top cycling journalist of the 1970s, and the Memorial Trophy has been presented annually since the year he died.