Championship Logo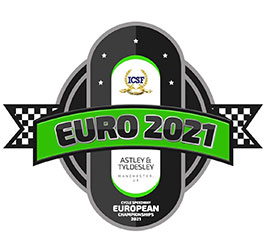 We are pleased to launch the official logo for the 2021 European Championships, kindly supplied by Myke Grimes of 33/18 Designs.
Championship Hotel
We are also delighted to announce that the Holiday Inn Express Hotel, at Leigh Sports Village, will be the official hotel for the Championships. They are reserving 40 rooms for us, for four nights (check in from Thursday 29th July, with check out until Monday 2nd August). The reservations will be held until Wednesday 30th June, i.e. four weeks before the championships, at a rate of £75 per room per night, including breakfast, with a high carb option available.
The modern hotel is located five miles (8 km) away from the Astley & Tyldesley track at Gin Pit, M29 7DW. Other facilities on the Sports Village site include a 12,000 capacity stadium, which is the home of Leigh Rugby League, Manchester United Women and U-23 teams, as well as being a venue for the Rugby League World Cup and Women's Football World Cup. There is also a Morrisons supermarket and garage, Indoor leisure centre and pool, Athletics track, College, Pub and bars, with ample car parking on the site of the Sports Village.
The hotel address is: Holiday Inn Express Hotel, Leigh Sports Village, Sale Way, Leigh WN7 4JY.
Guests can book directly at the hotel, just email reservations@hiexpressleigh.co.uk and quote speedway event.
Alternatively please see below weblink to the booking page and select group code ATC along with the dates required.
https://www.ihg.com/holidayinnexpress/hotels/gb/en/find-hotels/hotel/rooms?qDest=Leigh Sports Village, Leigh