Regrettably, the ICSF European Council has made the decision to cancel the 2021 European Cycle Speedway Championships, scheduled to be held in the UK.
ICSF delegates agreed with the recommendations of the Astley & Tyldesley and Sheffield Club Committees, as staging clubs, and the British Cycling Cycle Speedway Commission, as the host nation, to cancel the 2021 European Championships in the UK, between 30th July and 1st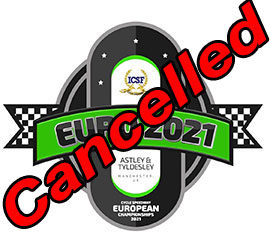 August, due to the continuing Covid pandemic restrictions on travel from overseas to the UK. The current restrictions in place for people arriving in the UK from an amber listed country are 10 days quarantine, plus 3 negative paid Covid test results, immediately prior to travel and during the quarantine period, on days 2 and 8. Poland is currently on the amber list.
With the next government revision not scheduled until 21st June, and concerns raised by the Prime Minister, Boris Johnson, that the increasing number of cases of the Indian variant of Covid may delay a revision, this does not provide enough time to adequately plan for the staging of the championships. To attempt to do so now, would impose a considerable financial risk to the organisers, in the ordering of the purchase or hire of awards, equipment, facilities etc. The timescales do not provide sufficient time either to attract a full complement of riders and officials to book travel and accommodation, in order to confidently participate in the Championships.
Therefore, the next European Championships will be held in the UK in 2023, from Friday 28th to Sunday 30th July inclusive. The Astley & Tyldesley Club have stated that they wish to host the next UK staging of the European Championships in 2023.
British Cycling's Director of Delivery, Danielle Every, stated that as the vaccination programme progresses, travel restrictions are becoming stricter and the British Cycling legal team are having to report every individual that leaves the country for sport to the UK Government's Department of Digital, Culture, Media and Sport (DCMS). This situation does not look like it will change before September.
In view of this, it is looking increasingly unlikely that British riders will be able to compete in the 2021 European Club Championships at Torun, Poland, from 10th to 12th September. However, the ICSF European Council will defer making a decision on the viability of staging these championships until Friday 9th July.